Today, I briefly visited Stones River National Battlefield, and while in Murfreesboro, also paid a visit to the Healing Field. Sponsored by the Exchange Club, the field is full of probably 200+ flags. It was a windy day, and they were all highly visible. People can "sponsor" a flag, and dedicate it to someone in the military. It was a moving tribute, and as I walked among the flags and noted some of those that were being honored, I felt as if I were among ghosts. All of those who had Gone Before. From all of America's wars. Even some of them, only a few years ago.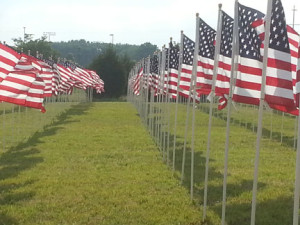 I thought about who I might honor. Corydon Heath, whom I came to know through the story of Milliken's Bend, and George Conn, another officer who died with Heath, were first to mind. But then, there was absolutely no local connection to Stones River or Murfreesboro at all. It didn't seem appropriate.
So I thought, "Who do I 'know' from Stones River?" And I thought immediately of Capt. Oscar Pinney, of the 5th Wisconsin Battery. I learned of his story probably 20 years ago. And I remember reading his letters. And his last (extant) letter home, written a few days before Christmas – where he tells his wife that he just received a furlough – "to start tomorrow morning" – only to inform her that it has been countermanded.
Pinney's battery was engulfed in the early morning of Dec. 31, 1862, in the opening hours of the battle. Posted on the far Union right, and firing canister, they were nevertheless overpowered and had to withdraw their guns. Pinney was shot, and his cannoneers were forced to leave him behind. After the battle, and when the Confederates had left the field, he was still alive, but died on February 17, 1863. Several of his comrades are buried at Stones River, but Pinney's body was sent home.
This Memorial Day, please remember his family's sacrifice, and those of so many, many others. They did not die that you might eat more hot dogs or have an extra day off work or shop at sale. They died that we might become a stronger, more secure nation. They died because they were willing to make sacrifices that many of us are not. They died to ensure our freedom, that we so often take for granted.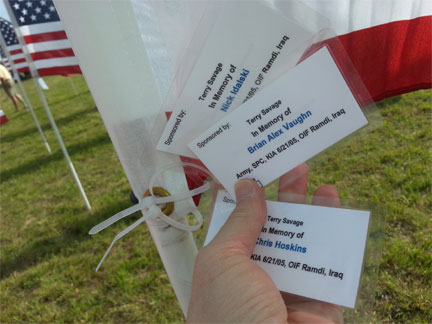 These men died too. Honor their sacrifice, say a prayer for their families, and shake a vets' hand who made it back. Thank you. We are forever in your debt.
More about Oscar Pinney and the 5th Wisconsin Battery at Stones River:
Read his last letter (page 19)
A memoir by Charles C. Cunningham
More resources about Wisconsin units, including the 5th Battery, at Stones River.
Vets today:
Help those who've come home: Wounded Warrior Project